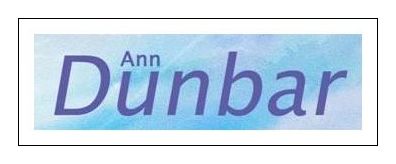 Ann's Statement /Plus sur ma démarche artistique 2018-9
The effect of light and texture plays an important role in my creations which probably stems from a memory in childhood when my mother showed me delicate pieces of lace made by my Grand mother. Sewing lessons by my French aunt, encouraging remarks from my father and my mother's insistence to finish needlework projects at school, all seem to have influenced and prepared me for a life in the creative world.I wanted to go straight to art college but was persuaded to do a three year teacher's diploma instead, my family supported me once again when an offer to study an arts degree came to follow. To my surprize, I discovered that combining embroidery to my watercolour paintings on paper is where the magic reigns, bringing it alive with rich relief and decorative detail. The fusing of the two methods was pure glamour, all I needed to do was to refine it and make it my signature.
The exciting translucent, ethereal backgrounds in the painting contrasted perfectly with the rich textures of the silken mass which was made by applying a mutitude of silken threads, stitched super- imposed, freely, layer by layer, to achieve the same optical effects as you see in impressionists paintings.
Over the years, my style has evolved through travelling to Asia and Australia bringing new fresh approaches. I now employ other media such as gold leaf, interference medium and inks to achieve more exciting effects on the paper. The overall finish transforms the appearance of the paper making it look more exotic or bolder and even having a completely different textural surfaces.
---
NEWS 2019
The year 2019 starts with a bang! My art featured in "The Art of Luxury" & The Art of Design Magazine, Issue number 39, published in the UK and in available in the Kiosk now. You can consult the article with this link:
www. https///joom.ag/VMGga code acess 5QbxAY
Learn about where I find my inspiration, why I embroider on my water colours etc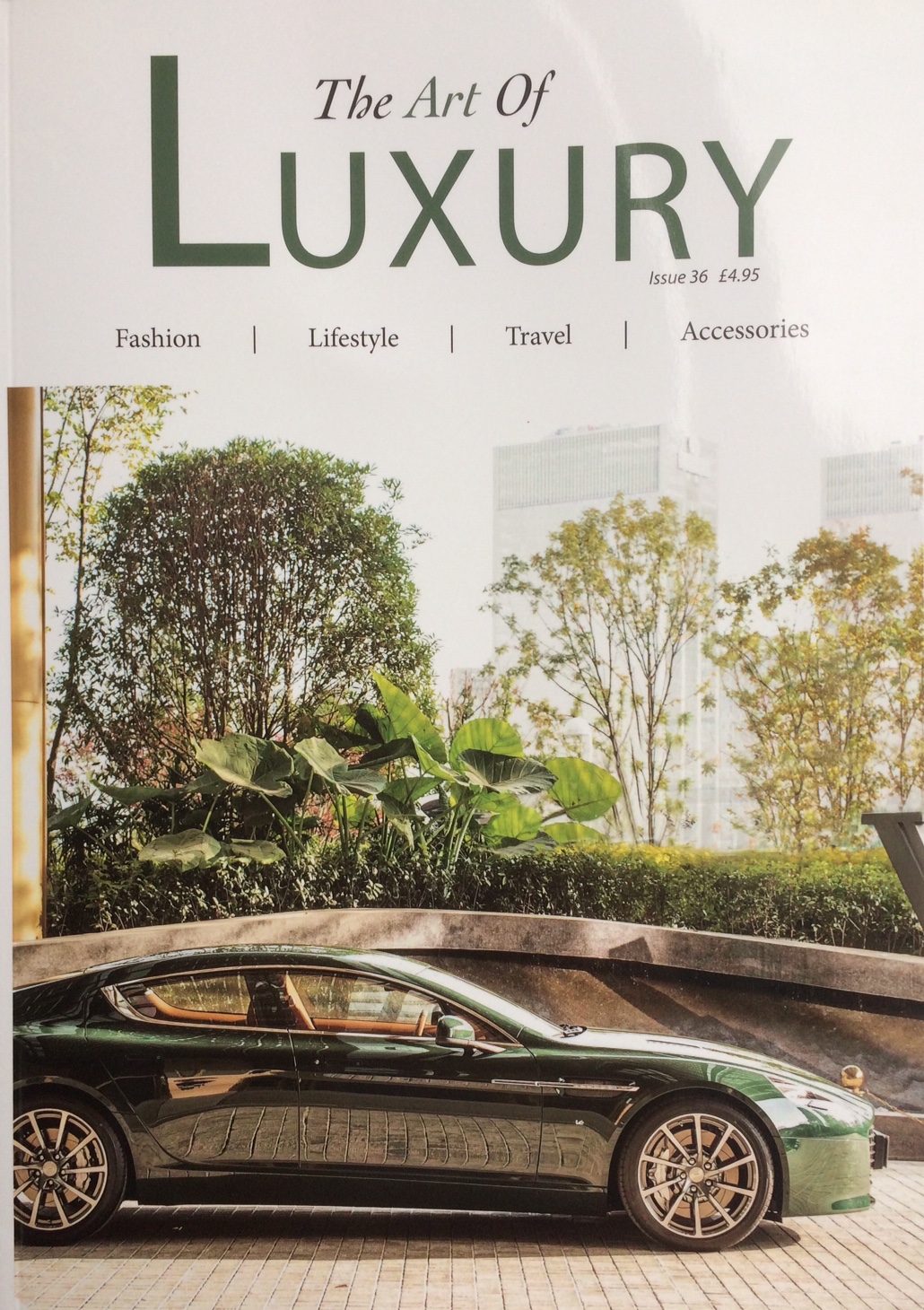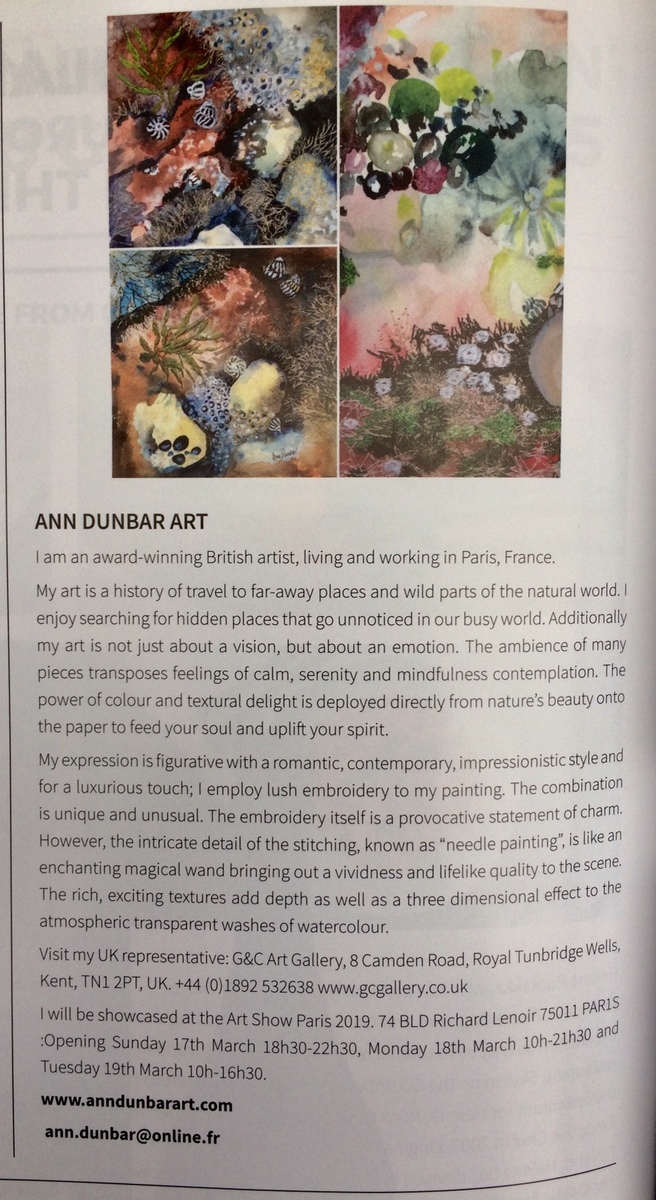 The
#luxury #the art of luxury #embroidery #Collection #Art Gallery #GC Gallery #Artist Ann dunbar
---
MY ART AGENT IN THE UK
Samples of my artwork is available for sale and on display at the G&C Gallery8 Camden Road, Tunbridge Wells, Kent, UK. www.gcgallery.co.uk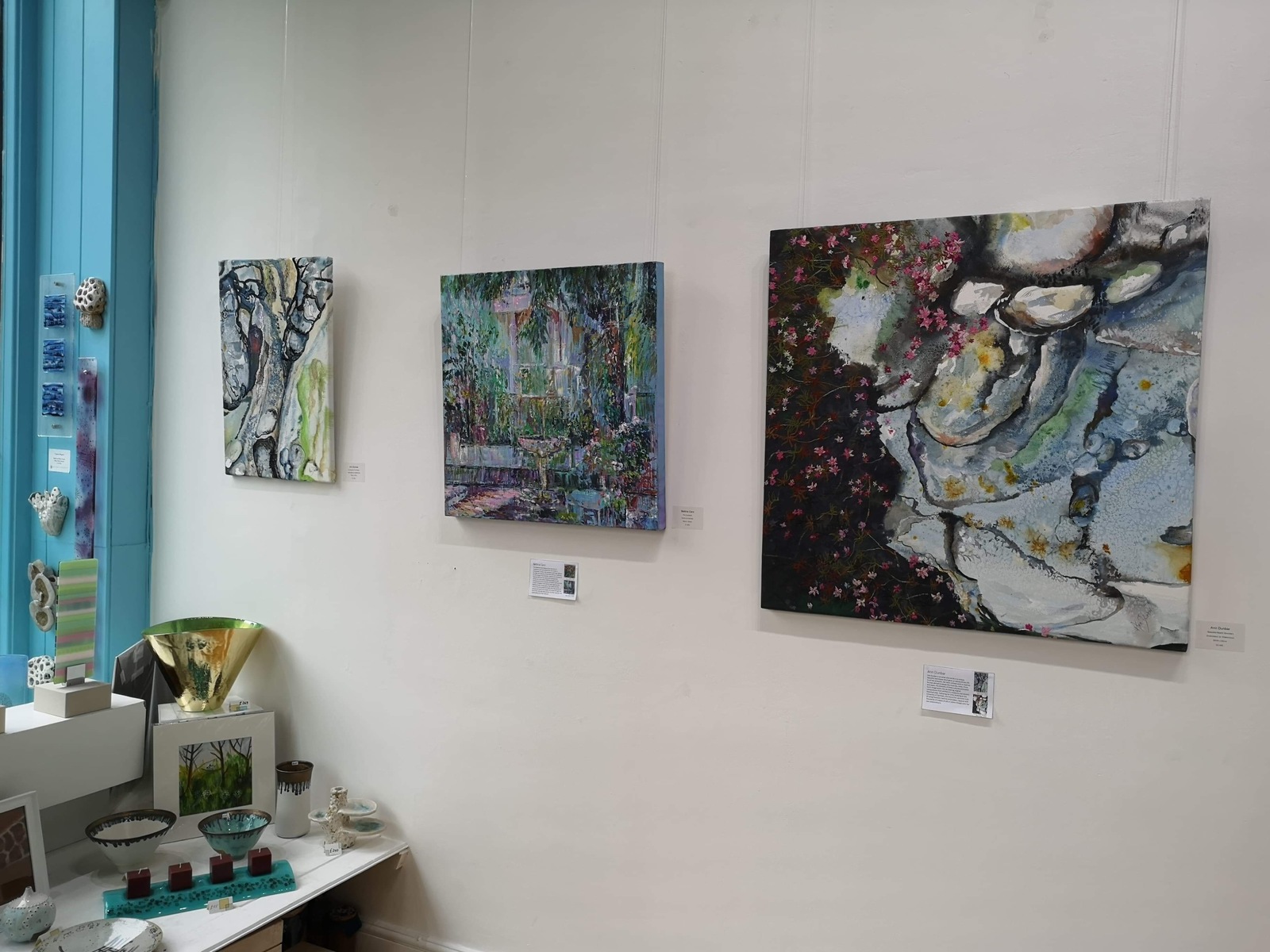 ---
La mairie de BONNEBOSQ, Calvados, Normandie se prépare pour mon expopersonelle "Entre la rêve et réalité"- paysage de Normandie, de 24mars au 29Avril 2018
The Town hall at Bonnebosq, Calvados, Normandy, are prepared for my solo exhibition "Between dreams and Reality"- Paintings of the Normandy countryside., from 24th March to 29th April 2018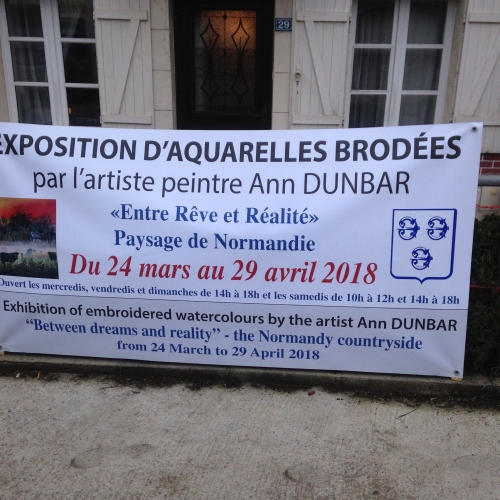 ---
LATEST NEWS: Ann was awarded an 'Honorable mention from the artist of the year competetion organised by the circle foundation of the arts, Lyon, France ( of which Ann is now an affliated member 2018) and the second chance award from Palm Art Germany, january 2018.
OCTOBER 2017
Hiding Place, Aquarium series was sold and adjudged at Drouot Auction Hotel in Paris on 21st October, organised by MOLA. "Museum of Living Art". The artwork is archived in the Museum and ditigal copies are available by Espom. On line go to " Research artist" type, DUNBAR, to order a signed copy.
Ann has obtained an international cotation recognised by the art collectors ArtPrice.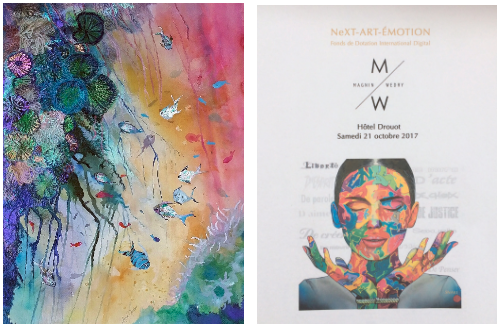 LATEST NEWS JULY 2017
My embroidered painting entitled "Three hens" of Provence will be housed permanently in the European Art museum, based in Denmark., from 18th July onwards. The object of this museum is to collect quality artworks created by professionel artists of all genres between 2000 to 2025, and eventually housed in new building of this epoque covering, a quarter of a century of the history of European art. It is an honour to record my art in history from now and to the future.
As a participating artist of the permanent exhibition, I will receive a certificate and a catalogue.
www.europeanartmuseum.eu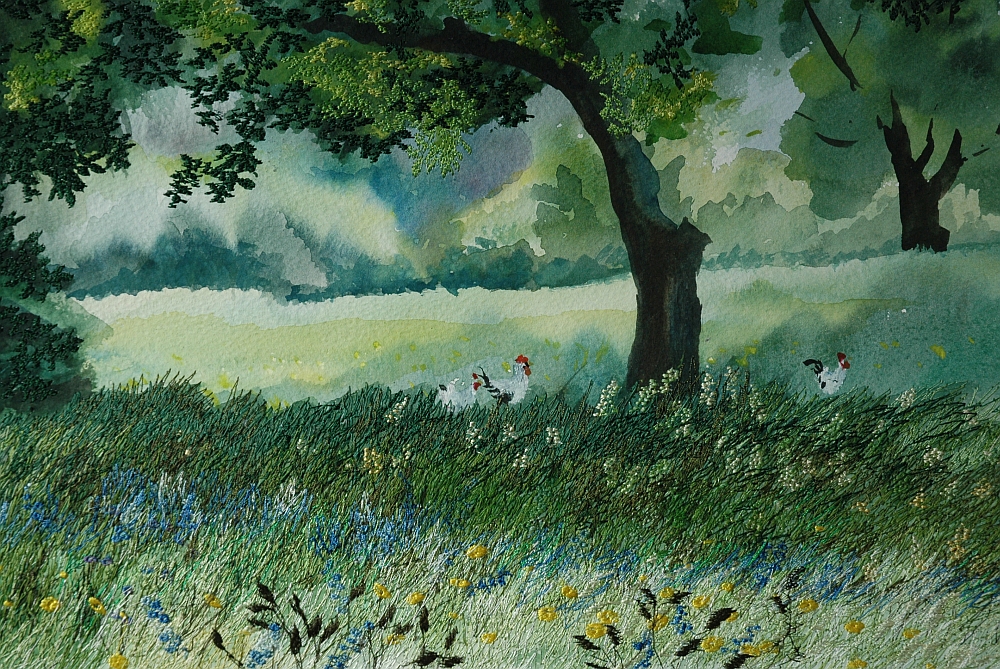 Three Hens 40x50cm framed and signed, Embroidery on water colour.
I am happy to announce that I am elected to become a member of the "Circle of European Artists", based in Paris.
---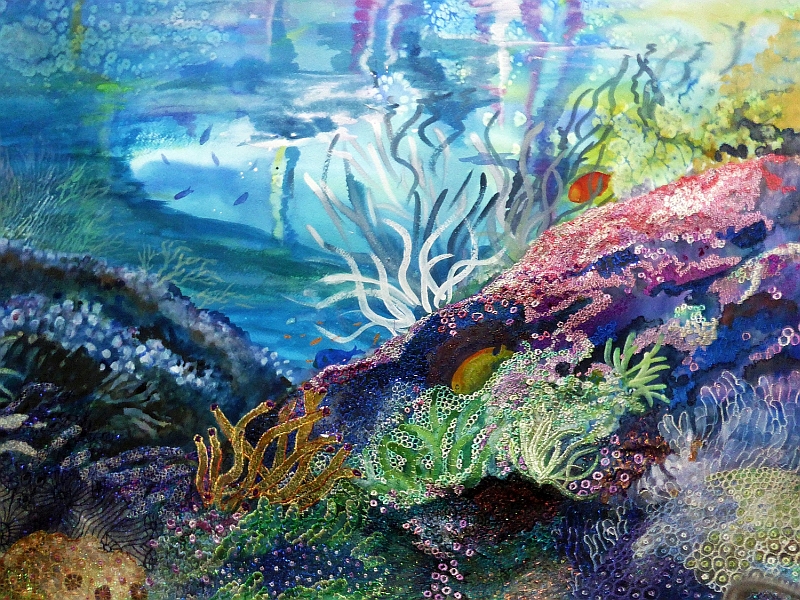 Marine life Magnificence 80x95cm was awarded the Gold Palm Art Award in Monaco by ArtExpo Gallery, Italy. September 2016
For over a year I have been inspired by the silent world of the mysterious deep sea and under water scenes. despite the connection of near death drowning experience at the age of ten, my fascination of the colourful wonders of the sea has fuelled my curiosity and lured me to visit amazing aquariums like in Singapore and Okinawa, Japan. An attempt at snorkelling at the Barrier reef, as well as exploring different Australian beaches were in order to defy my fear of the sea.In my observations, I became in awe of the array of forms, colours and textures which had such scintillating vibrancy. I was enchanted, transfixed by the aquatic life forms themselves, mesmerised by strange and alien like creatures, how could I replicate this unknown, beautiful world into art to treasure? In conveying my visual response to this watery world, I found myself investigating marine science; did it hold the root of life itself?, it certainly poses many questions about our own existence and the impact of human modern life. My intention is to bring awareness of a watery paradise, its fragile beauty and vunerability, its own landscape of mountains, sky and vegetation, almost like heaven and earth coming together.

---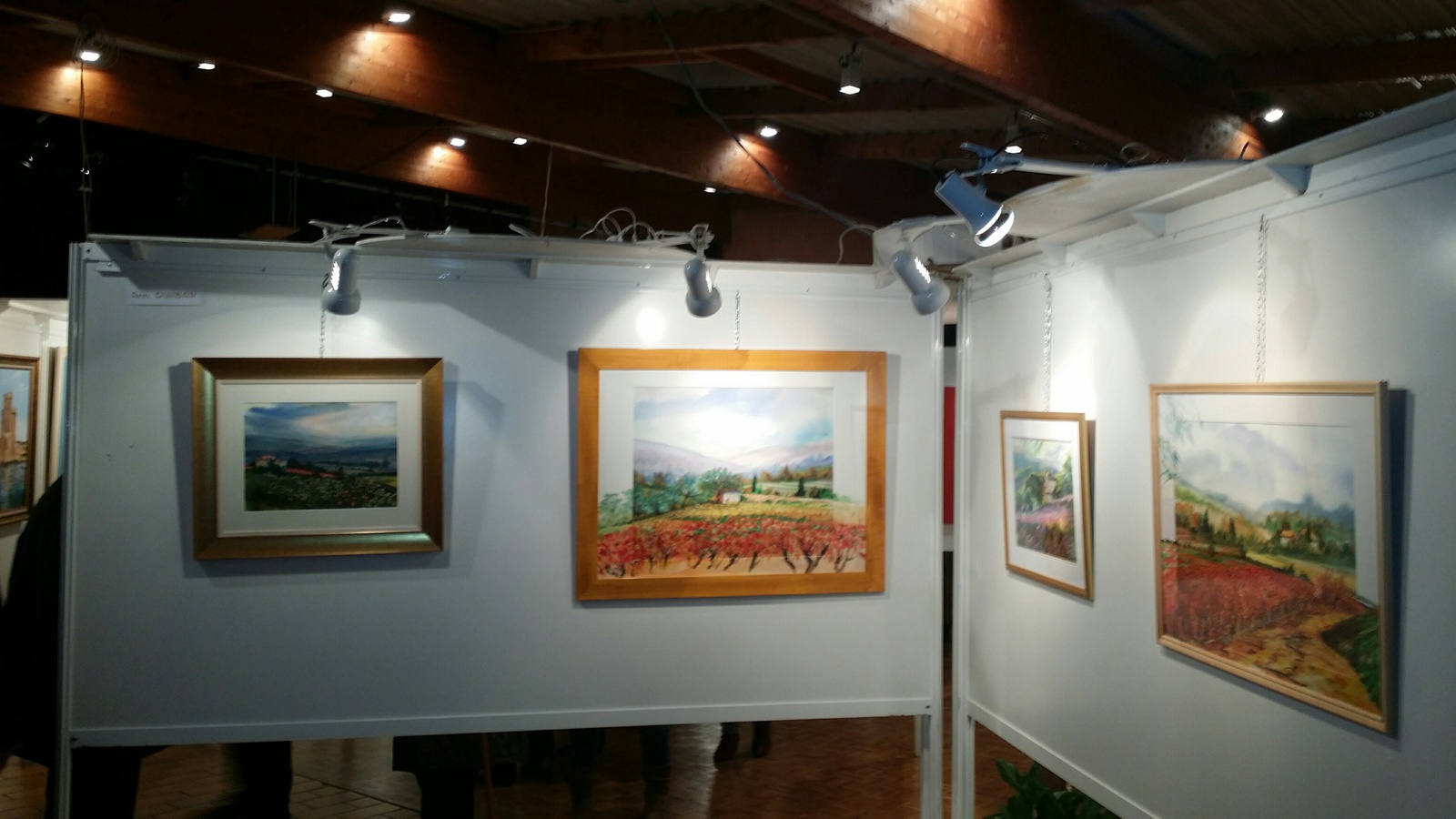 Ann's embroidered painting called " Cabin in autumn vineyard" received the "Coeur d'Essonne Agglomération 2016" prize from the jury's president,at the 1st Salon "Palette" at Egly, 13 november 2016.
HOTEL DES VENTES

I am a quoted artist with hotel Drouot & Artprice.
---
The commission of ArtExpo Gallery, Italy, is awarding me the prestigious "Palma d'oro per l'Arte 2016", at the Biennial Art Exhibition taking place in Monaco. The award ceremony will take place in the salon of Monte Carlo Bay ( Hotel Monte Carlo Bay) on 24th September 2016
---
Les fils de soie et peinture tout en douceur s'entremêlent invitant ainsi la lumière à orchestrer une danse de couleurs que les mains de l'artiste distribuent avec subtilité captivant alors nos pupilles et nous invitant à entrer dans ce bal enchanteur.

ART SHOPPING CARROUSEL DU LOUVRE PARIS 2016
This will be my first appearance and participation at this prestigious salon and I am delighted to be represented by MONA YOUSSEF GALLERY (Canada)
I am absolutely thrilled to be represented by Mona Youssef Gallery (Canada) at the Art Shopping event at the Carrousel du Louvre from 21,22 & 23rd October 2016. Click the link above to view the lovely video on youtube she has prepared.
Not only is she a remarkable curator, gallerist and jurist, she is a talented artist in her own right. Click the link below to view her work.
https://www.xing.com/profile/Mona_Youssef
/+MonaYoussefGalleryRealismOilPaintings
To join my mailing list, for latest news and expos or simply to get in touch, please send me an email with a message by clicking contact on menu bar. Thank you.
I have the privilege and honour to be represented by Shoalhaven Fine art gallery. It is situated in NSW near Jervis bay, Australia. You will discover new works of my romantic expression of Monet's garden at Giverny, geraniums in front of Monet's house( as shown above), Parisian gardens and the sunbaked land of Provence in June- July, inspiration of tree forms and undersea theme. The works are expertly framed in house.

Michael Sinnot, the director will welcome you at this busy season
For more information: www.shoalhavenfineartandframing.com
Mon intérêt n'est pas simplement focalisé dans la réalisation de chefs-d'œuvres, mais plutôt dans la recherche d'une expression dans le but de capturer le public, que vous êtes, par des élans d'émotions inespérés.
Car croyez-le, les impressionnistes ont observé le mouvement des nuages, regardé les nuances des couleurs qui donnent le plus de profondeur ainsi que la puissance du volume, et leur sentence sont sans équivoque.
Mes tableaux sont dans ce même esprit de vivacité où le spectateur reconnait l'atmosphère et l'ambiance d'une émotion qui lui remémore nombre d'expériences humaines. Transmettre la vie en permanence est mon objectif d'où l'orginalité de mes créations.
Avoir cependent fait le choix d'épouser la broderie avec l'aquarelle sur papier résume au mieux mes sentiments profonds.
Tous ces milliers de fils cousus couche par couche donnent un volume supplémentaire qui danse avec la lumière sur les fils chatoyant, ils créent la vie comme une vraie nature.
Chaque paysage exprime une amalgame de paroles, une expérience personnelle, une heureuse émotion voire un souvenir d'enfance où règne imagination et conviction.Ce mélange d'éléments dans un paysage amorphe conduit vers un paysage sublimale.
J'espère que vous aurez trouvé du bonheur dans la beauté de mes œuvres et que, peut être,vous aurez envie d'acquérir un tableau pour votre bureau ou maison.


My interest is not simply to focus on just creating a master- piece, but to also find an original expression to capture emotion and attention.
The impressionists have observed the movement and colours of clouds which give depth and volume. Their legacy goes without question.
My pictures are created in the same spirit of vibrancy which emits the same emotional atmosphere and ambiance of everyday human experiences or memories.
To transmit life and to immortalize the miracle of nature for your eternal pleasure is my main objective.

Choosing to marry embroidery with painting is for me the most profound and unique way of expression.
The thousands of threads, sewn layer by layer, distributed with ease, add volume, so much so that it seems like real nature.
Each landscape or composition expresses an amalgamation of stories, a personal experience, a gratifying emotion on reviewing a childhood memory or simply the play of imagination and conviction. The mixture of the main elements of a landscape are amorphised towards a sublime landscape.
I love gardens. To me they are a place of solace and contemplation. It is a special place where I reflect my thoughts, listening to birds singing as I brush my way through the flowers overflowing the borders. It is a sanctuary where I seek peace and re -charge and become re-energised by the glorious range of forms, colours and textures. As artists, this is what we do. We think about the hues, depth of shade, the variety of textures as we trail along the pathway. We are distracted by the way the petals fold over revealing their internal secret beauty and how we can translate our emotive feelings into a painting. English flower borders are a joy to view and I relish in visiting the local gardens and in my own garden where I like to mix and match bulbs with perennials., with the intention of sketching and seeking an unusual combination of tints of colour, like this marvellous display of geraniums in front of Monet's garden It is not quite what I saw in reality- the composition is somewhat exaggerated and I enhanced the dreamy pastel shades to depict a romantic style of painting.
Available at Shoalhaven Art Gallery, NSW, Australia:Lavender scent.2017