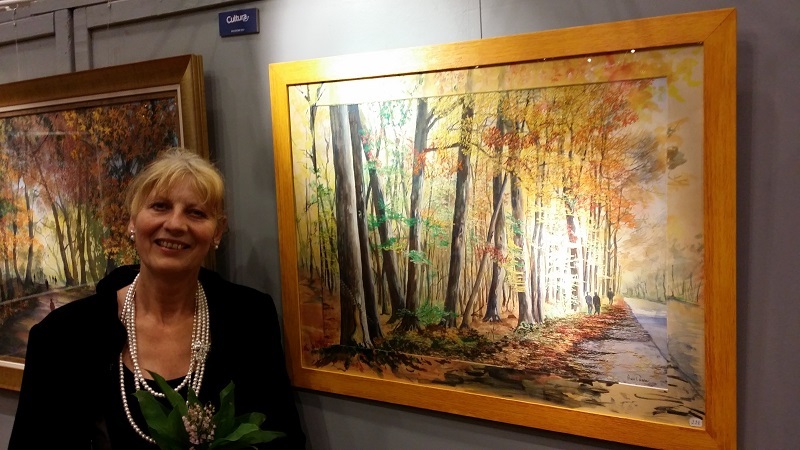 Ann Dunbar is an award-winning artist whose style is both classical and romantic with essences of impressionism executed in a contemporary way.The landscapes,seascapes and imaginative compositions, inspired by her voyages abroad, are soulful and serene. You find yourself transported into a world of flickering lights on an abundance of silken textural stitchery. The scene shimmers and spring to life.
From a young age, Ann was dedicated to her artistic pursuits, with support and encouragement of both parents and teachers, her talents blossomed.
She went to attend formal art training in the U.K., both for a teacher's diploma and a degree with honours.
Whilst teaching, Ann began experimenting with mixed media and after so many years of research, she developed a remarkable technique, finding her signature of marrying her paintings with embroidery.
Her passion for this magical combination is still evident in her work today. Ann's paintings are in many private collections world-wide. Most recently Ann was awarded the "Gold Palm of art award in Monaco from ArtExpo Gallery, Italy and a gold medal from Artcomexpo International at the Brazilian Embassy in Oslo, Norway. She is currently working for the "Nadelwelt" exhibition to be held in Karlsruhe, Germany, as a guest exhibitor from May 5th -7th. 2017.

---
RECOMPENSES & DISTINCTIONS / PRIZE AND AWARDS
Ann was awarded the "Best in Salon" Trophy at Dubai Salon International "Art, Light and Life" critics: Fanny Chateauneuf (Argentina), Aquilino(Portugal),Prof Francesca Luslini (Italy),Hans Salbu (Norway) Licia Simoneti (Brazil)
at Art Index Dubai 2017, organised by Artcomexpo.com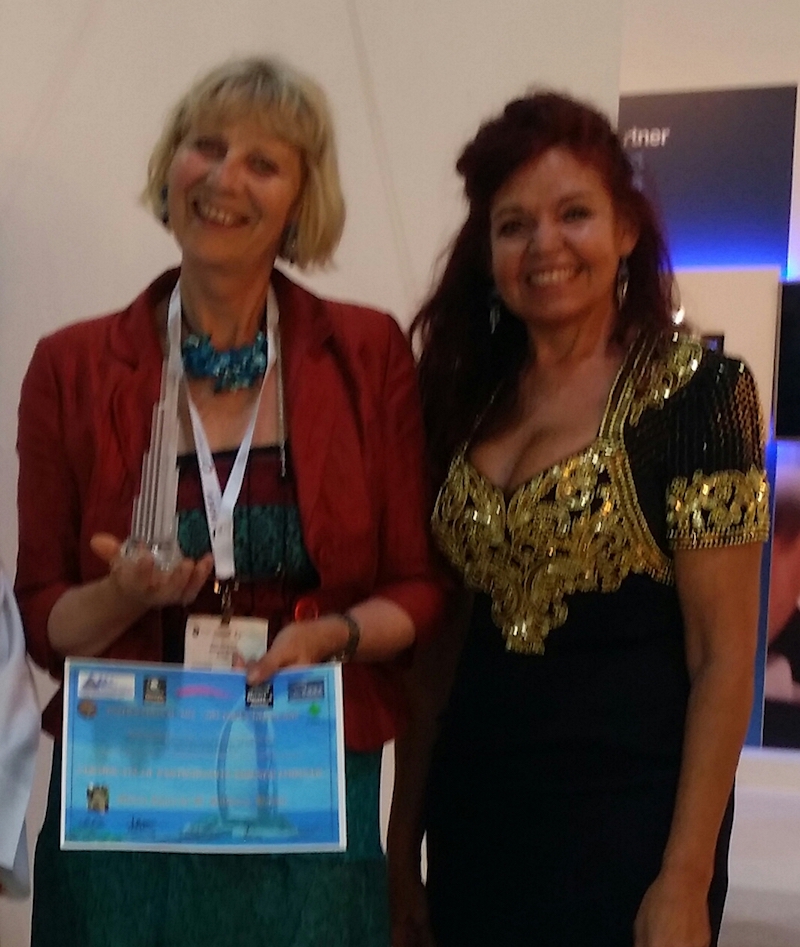 Ann receiving her trophy from Baroness Jiselda Salbu, May 2017
(2017) Ann's entry for "HerStory" online exhibition has been selectedamongst hundreds of entries. She is one of 63 artists who's work is featured on
PALM ART AWARD " Recognition Prize" Art Domain (dec 2016)

Au 1er Art Shopping "Côte d'Azur" Cannes le 9 décembre 2016, le jury du Artcom International à décerné la médaille d'or pour l'oeuvre "Azure Blue".
At the 1st Art Shopping" Côte d'Azur", Cannes, on 9th December 2016,the jury of Artcom International has awarded Ann the Gold medal for her work "Azure Blue".

Au 1er Salon "Palette", le président du jury, à décerné le prix "Coeur d'Essonne Agglomération 2016 à Egly, le 13 novembre 2016
At the 1st Salon "palette",the jury's president awarded "The heart of Essonne's Aglomeration" 2016.

Galerie ArtExpo: Trophée de palme d'or à la Biennale I de l'Art International à Monte Carlo, le 24/09/2016
ArtExpo Gallery: Golden Palm Trophy award at the Interantional Art Biennale in Monte Carlo, 24/09/2016
---
Médaille d'or décerné à l'ambassade du Brésil à Oslo, Norvège, à l'exposition- concours pour les échanges culturel de l'art, organisé par ArtcomExpo International; 05/09/2016

Gold medal awarded at the Brazilian Embassy in Oslo, Norway at the juried Exhibition "Cultural Exchange of Art "organised by ArtcomExpo International, 05/09/2016
---
Médaille de bronze décerné par l'association ArtcomExpo International and Gallerie Ometto a l'exposition de la culture Brésilienne à Eid, Norvège, le 27/09/2016
Bronze medal awarded by ArtcomExpo International and gallery Ometto (Brazil) on Brazilian culture week in Eid, Norway on 27/09/2016
---
2015
Member of the TAFA list (world wide listed fibre artist) www.tafalist.com
---
Médaille de Vermeil reçu par l'association Institut Européen des Arts Contemporain
Medal of "Vermeil" awarded by the European institute of contemporary Arts
---
Premio"Nature-Art-Design" Rassegna "Tra Cielo & terra riflessi d'argento e cristalli di Luce" Academia Internationale Gentilizia il Marzocco, Italie Firenze 14/06/2015
"Nature-Art-Design" Prize at the Air,Sky and Earth Exhibition presented by the International Academy Marzocco, Florence, Italy 14/06/2015
---
Ann était séléctionée au grand concours international pour l'Exposition " pouvoir de l'art pour la santé", sur le site de Manhattan Arts International, d'Avril 30 au Juin 30, 2015, New York, USA.
Ann is a finalist and selected artist for the Online Art Competition" Healing power of art" April 30th to June 30th, 2015, presented on the site of Manhattan Arts International, New York, USA
---
Prix d'art International "Imperial Rome", le 19 mai par critique d'art , Salvatore Russo.
Ann was awarded the " International Imperial Rome" Prize by the Art Critic, Salvatore Russo, May 19th 2015
International Art Prize of High Recognition"Pierre Paul Rubens" Lecce, Italie, June 2015.
Prix d'Encouragement au Grand concours international d'art Contemporain de l'IEDAC Avril 2015
Institute European of Contemporary Art, Ann was awarded the "Encouragement Prize " April 2015
---
Artmajeur Silver Award:Ann's Online art gallery 2014-15

Première Prix d'Aquarelle au 11ème Salon des Arts à la Galerie ART&CULTURE, St Marcel 32600
Au 68ème Salon Artistes Du Hurepoix- ste Genevieve-des-Bois, Ann a été primée avec le prix "Cultura", 26 avril 2014.
Ann was awarded the "Culture" Prize at the 68th Salon des Artistes Du Hurepoix.


Nomination officielle de grand Académicien International des Académies "Grec--Marino" del Verbano, (Meçenat d'Italie), section Arts, sur proposition de Mme Dominique Le Magoarou, Présidente-Déléguée-FRANCE.
2013
XIV edition of "Salento Porta D'Oriente"
International Art Prize of High Recognition
"Apollo" Honorary member & Master of Artof the Association "Italia in Arte" 2013 -2014
Special Human Rights award "St Frances of Assisi"
XIV édition "Salento Prota D'Oriente"
Prix International D'art "Apollo" de haute reconnaissance, membre Sociétaire Honoraire et Maître émérite 2013-2014,de L'AssociationItalia in Arte.
Prix spécial pour les droits de l'homme "Francesco il frate di Assisi".
Diploma and Silver Medal Award of The International French academy of Merit and Devotion
Diplôme et médaille d'Argent de l'Académie international de Mérite et dévouement Français.
Grand Town Prize of Manom (Lorraine) for the concours international "Toile sur Toile" 2013
Grand Prix de Manom (Lorranie) , au concours International "Toile sur toile".
Public Prize Award for the international Salon "Little treasures"Gallerie di Marchi, Bologna, Italie.
Prix du Public Salon International à Bologna Italie
2012
Diploma & étain medal ARTS SCIENCE LETTRES Paris.
Diplôme d'étain ARTS SCIENCE LETTRES. Paris
1st Prize of the Jury, Gallery Thuillier, Paris
1° Prix du Jury, Galerie Thuillier, Paris
Diploma of honour for remakable work in France-Japan Salon. JAPAN
Diplôme d'honneur pour son travail remarqué lors du Salon Franco-Japonais à Okinawa et Amagasaki. JAPON.
2ndPrize.International Gubbio.Italie.
2ème Classification au Salon international de Nauartis, Gubbio, Italie
Medal of The National Assembly Carrefour des Arts Linas
Médaille de l'Assemblée Nationale au 22ème Carrefour des Arts à Linas
Et Prix du Public
2011
Michael Angelo of high Recognition International art award Italia in arte
Michel-Ange Prix de Haute Reconnaissance dans le monde d'art International Italia in Arte.
2010
Diploma of Honour for the quality of work presented at Phom Phen Cambodia.
Diplôme d'Honneur China House Phom Phen Cambodge

Diploma & bronze medal ARTS-SCIENCE LETTERS
Diplôme de Bronze ARTS-SCIENCE –LETTRES
2009
Diploma et medal presented at the 63rd Grand Salon of SAH with a special mention for the best expression of astronomy viewed in art.
Diplôme et médaille obtenus au 63 éme Grand Salon en Essonne avec mention spéciale pour l'expression de l'astronomie vue par l'art.
2008
Prize awarded from FEG Ltd for Best Watercolor the Salon International of AEAF
Prix d'Aquarelle de la Société FEG au Salon International de l'Académie Européenne Des Arts France
Medal et diploma awarded by SAH The HUGETTE COLONGE prize at the 62nd Salon of SAH Essonne
Prix Huguette Colonge diplôme et médaille au 62ème Salon Société des Artistes d'Hurepoix
1st Prize award from ARTEC Salon International Romorantin
1er prix d'ARTEC au Salon International à Romorantin
Gold Medal awarded at the 38th Salon International Competition, organised by European Academy of Arts in Belgium
Médaille d'Or au 38ème Grand concours Salon International de l'Académie Européenne des Arts en Belgique
1st prize awarded at the Salon of ARTEC at Chouzy Sur Cisse
1er Prix au Salon ARTEC à Chouzy Sur Cisse 41150
Diploma presented by the jury of Galerie Artitude for the qaulity & diversity of her artworks in 2008
Prix Spécial du Jury à la Galerie Artitude pour la qualité et la diversité de ses œuvres en 2008
Diploma of honour for the quality of artwork presented at the 1st festival of art in Amagasaki & Nikko JAPAN
Diplôme D'Honneur au festival de d'art à Amagasaki & Nikko JAPON
2007

Vermeil medal and diploma with distiction at the International Salon at Paris organised by Academy of Lutece
Médaille de Vermeil et Diplôme avec mention au Salon International de l'Académie de Lutèce à Paris
2006
Gold Medal Award at the Salon International of Academy of Lutece Paris
Médaille d'Or au Salon International de l'Académie de Lutèce à Pari
County of Essonne Medal.
Médaille du Conseil Général de L'Essonne
2005
Vermeil Medal and Special Award for Applied Arts at the International Show at Paris with The Academy of Lutéce
Médaille de Vermeil à Paris avec l'Académie de Lutèce.
2003
President's Prize of the Association Alpicois at Le Pecq
Prix du Président de l'association Alpicois à Le Pecq
Public Prize of the valley of Cailly at the International Art Show
Prix du Public à La Vallée du Cailly
2001
National Assembly of Paris Prize awarded by Francilienne des Arts
Prix de l'Assemblée Nationale de la Francilienne des arts en Essonne
Gold Medal Award at the International exhibition of the Academy of Arts in Europe - France
Médaille d'or au salon iternational de l'Académie des Arts Européenne- France
1999
Maromme Town Hall Prize
Prix de la ville de Maromme
1978
Ist prize ART SHOW London
Premier prix Salon Londres
RESIDENCES/ WORKSHOPS

8th Edition:Percezioni 18th June-25thJune 2016, Residence M3, Peschici, (Foggia) Italie,Trevisan International
7th Edition:Percezioni 30th May- 6th June2015, San Menaio, Italie-Trevisan International
6th Edition:Percezioni 8-15 July 2014 Vico del Gargano, Italie-Trevisan International
BIBLIOGRAPHIE/PUBLICATIONS

2018
THE ART OF DESIGN MAGAZINE incorporated in the "Art of Luxury section" Issue No 30 MHmedia Global Ltd.
2016-8
REFERENCEE TOUS LES ANS DANS L'ANNUAIRE LAROUSSE DES ARTISTS COTEES.
ANNUAIRE INTERNATIONAL DES BEAUX ARTS-ART DIFUSSION
GLOBAL ART DIRECTORY- ARTISTS INFO
ARTFABETIC-DICTIONNAIRE DES ARTISTES PLASTICIANS DE FRANCE
2016-7
ANNUAIRE DE MONDIAL ART ACADEMIA
2015
OVERART MAGAZINE/ REVUE D'ART, ITALIE
ART ABSOLUTMENT(NUMERO SPECIAL )55 Artists talents à découvrir.
EFFETO ART REVUE INTERNATIONAL mai-Juin
ENCYCLOPEDIE DES ARTS CONTEMPORAINS-INSTITUTE EUROPEEN DES ARTS.
ART & DESIGN MAGAZINE Edition:3 LMS Publishing
ANNUAIRE INTERNATIONAL DES BEAUX ARTS- ART DIFFISION
2014
HIDDEN TREASURES MAGAZINE YEAR BOOK
OEUST FRANCE JOURNAL article 14 mai
ALBO D'ONORE-ITALIA in ARTE
LIVRE ACADEMICIENS-MONDIAL ART ACADEMIA
PRESSE DE MOSCOU, mai 20
2011
ENTRE BRODERIE & AQUARELLE- (Video-live) Paris web.
2009
IMPORTANT WORLD ARTISTS Vol 1 , USA
INTERNATIONAL CONTEMPORARY ARTISTS, NEW YORK, ICA puiblications
ARTICLE- ART JOURNAL, BOLOGNA, Italie, mars-avril
2008
GAZETTE DES ARTS INTERNATIONAL, Oct
2007
CADRE & DECORATION MAGAZINE, NOV
ARTIST REVIEW 5 pges GRAND PALAIS EDITIONS
2005
PALETTE PAR PALETTE MAGAZINE,USA
COLLECTIONS
ECOLE DE PARIS, JAPAN
INFINEUM UK LTD,ABINGDON, OXFORDSHIRE.U.K
MARIE CURIE, PARIS
AMBASSADE DE L'ORIENTE ARAB,PARIS